Áine Stapleton's new work is a 'creative investigation' of Lucia Joyce (pictured)
Dancer Áine Stapleton talks about her creative investigation of Lucia Joyce in advance of her work-in-progress showing of Horrible Creature, exploring Lucia's life, at Dublin's DanceHouse on June 27th.
I started dancing when I was 7 years old. My mam allowed me to attend modern and ballet classes, and it was my favourite thing to do. I was in full control of my body, and with that came a real sense of freedom and joy. Dance remains vital to my well-being, as it allows me to play out the unlimited potential of my body. I can often feel uneasy and restricted in my regular daily life, having to comply with socially prescribed normative behaviour and gender roles. My mother died when I was 15, and I don't remember crying or even talking about what was happening, I just choreographed whenever I could. I created dances that seemed abstract, but the movement somehow made sense to me for what I was trying to express. All those feelings that I had difficulty comprehending in my mind were being processed by my moving body.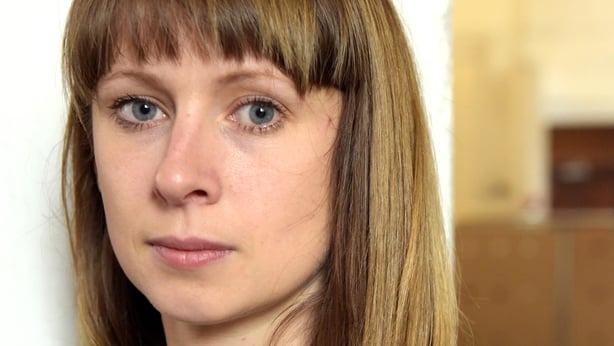 Dancer Áine Stapleton 
Listening to and trusting my body is one of the most important lessons that I continue to learn from my dancing. I completed a Dance Degree at the University of Surrey in London in 2004. Since then my artistic work has expanded to examine issues relating to environmental protection, human rights, and trauma – in particular the after-effects of sexual violence and incest. I've been creatively investigating the biography of Lucia Joyce (daughter of the writer James Joyce) since 2014, through both choreography and film.
I have no interest in romanticising Lucia's relationship with her father.
Lucia once commented to a family friend in Paris that she wanted to 'do something'. She wanted to make a difference and to creatively have an impact on the world around her. Dancing was her way of having an impact. She trained hard for many years and worked with various avant-garde teachers including Raymond Duncan. She created her own costumes, choreographed for opera, entered high profile dance competitions in Paris, and even started her own dance physical training business after apprenticing with modern dance pioneer Margaret Morris. Until this time she had lived almost entirely under the control of her family, and had to share a bedroom with her parents well into her teens. I imagine that dancing must have been a revolutionary feeling for her, and would have offered her an opportunity to process her chaotic and sometimes toxic upbringing. It was during these dancing years that she was finally allowed to spend some time away from her family, but this freedom did not last long. Her father's artistic needs and his sexist disregard for her career choice interrupted her training at a vital stage. She was forced to stop dancing, and the circumstances surrounding this time remain unclear. I do not believe that she herself made the decision to quit dancing. Lucia was incarcerated by her brother in 1934, and then remained in asylums for 47 years. She died in 1982 and is buried in Northampton England, close to her last psychiatric hospital.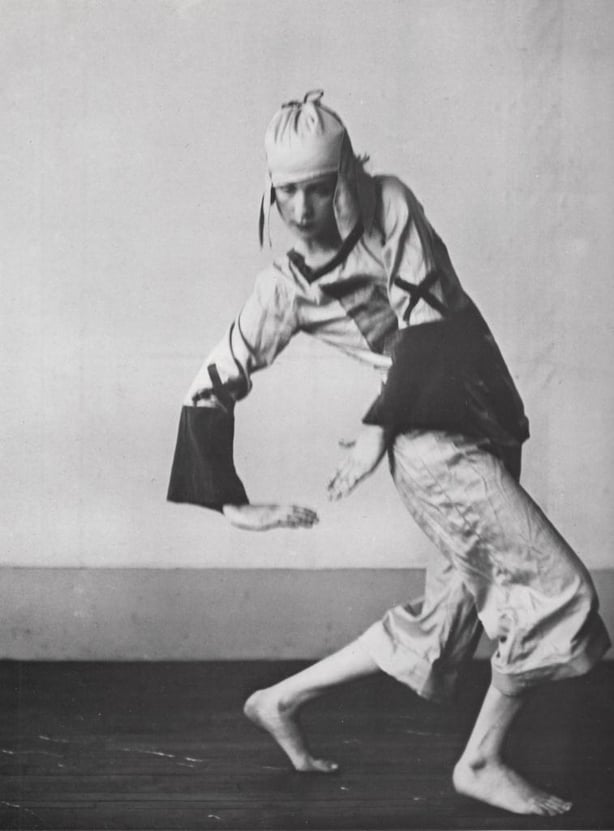 Lucia Joyce
I've read Lucia's writings repeatedly over the last four years, and my opinion of her hasn't changed. She was a kind, funny, intelligent, creative and loving person. After her father James' death in 1941, she had one visit from her brother and no contact from her mother, yet she only writes good things about her family. She was consistently thankful to those people who made contact with her during her many years stuck in psychiatric care. She appreciated small offerings from friends, such as an additional few pounds to buy cigarettes, a radio to keep her company, a new pair of shoes or a winter coat, all of which seemed to offer her some comfort in her later years.
Lucia once commented to a family friend in Paris that she wanted to 'do something'. She wanted to make a difference and to creatively have an impact on the world around her. Dancing was her way of having an impact.
I have no interest in romanticising Lucia's relationship with her father. I also don't believe that she was schizophrenic. I think that whatever mental strain Lucia experienced was brought on by those closest to her. Her supposed fits of rage or out of the ordinary behaviour only brought to light her suffering. We know that many women have been mistreated and silenced throughout history. Why do we still play along with a romanticised version of abuse? And why is James and Lucia's relationship, or 'erotic bond' as Samuel Beckett described it, regarded as an almost tragic love story?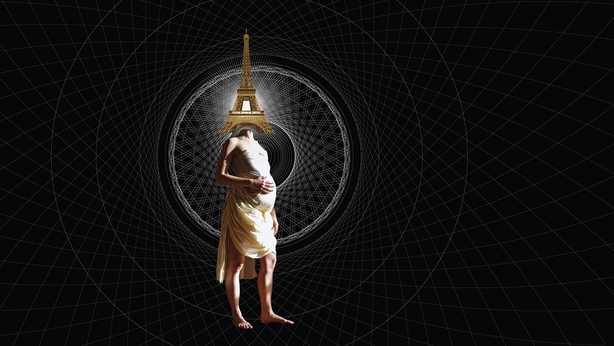 Horrible Creature
My latest project is called Horrible Creature, a work-in-progress choreography based on Lucia's life between 1915 and 1950 and kindly supported by Arts and Disability Ireland's Connect Scheme, in partnership with Dance Ireland and The James Joyce Centre Dublin. The choreography has been developed as a written language score, similar to a script for theatre, which I've been writing since last January in Ireland, Switzerland and England. The score examines Lucia's story in her own words, and also focuses on the environment which shaped her during this time. The work attempts to tap into that invisible energy that can provide each of us with a real sense of aliveness and connectedness to the world around us, even in moments of great suffering. Over the last few weeks I've been in studio with a fantastic dancer called Sarah Ryan. She is a generous performer and a fabulous person, and I'm excited to have her perform at the upcoming work sharing. The project will then go on to be expanded into a full-length feature film with support from the Arts Council of Ireland, to be filmed in Zurich and due for premiere in late 2018/early 2019.
Horrible Creature is presented as a work in progress at DanceHouse, Dublin on June 27th – more information here.
WANT TO KNOW MORE?
Why was James Joyce's daughter Lucia written out of history?
By Annabel Abbs – author of the Joyce Girl – The Irish Times Thu, Jun 16, 2016
Annabel Abbs, author of The Joyce Girl, asks why was Lucia Joyce, a beautiful woman and talented dancer, left to languish by her family for 50 years in an English asylum?
Most of Lucia Joyce's letters (to her, from her, about her) had been purposefully destroyed. Her medical records had been burnt. She spent four months in analysis with the legendary Carl Jung in Switzerland. He too had destroyed all his notes. Poems and a novel she'd written had also been lost or destroyed.
When I first stumbled across James Joyce's only daughter, I confess I was behind the curve. It was a dank, dark day in March 2012. Copyright on Joyce's work had recently expired and Joyce scholars everywhere were celebrating. I knew nothing of this as I pushed aside a demi-john of lime vodka and picked up a graphic novel recommended by a friend. At the time a career in the flavoured vodka business beckoned and I was experimenting with flavours in my kitchen. The demi-johns were heavy, my hands were sticky with citrus, and I'd managed to get vodka in my eye – Dotter of her Father's Eyes, by Mary and Bryan Talbot, looked like a bit of light relief.
The "light relief" turned out to be a comic-style autobiography, cleverly twinned with a short but moving account of Lucia Joyce's life. I'd studied Joyce at university, some 25 years earlier, but knew nothing of his daughter. I was instantly struck by the juxtaposition of the world-famous, iconic figure of Joyce and his "unknown" daughter. Everything about her intrigued me. I wanted to know more about this beautiful girl who'd studied modern dance in 1920s Paris.
I wanted to know what happened between her and Samuel Beckett, and between her and the American artist, Alexander Calder. Why had her lovers had such stellar careers, while her own promising career as a dancer languished? I wanted to know what it was like to have a father deemed to be a genius pornographer, and a mother who'd been an uneducated chambermaid – another odd juxtaposition. I wanted to know how it felt to be at the heart of one of the most exciting periods in artistic history. But most of all I wanted to know why she was left, friendless and forgotten, in an English mental asylum for 50 years. What had happened to make her own mother and brother abandon her so ruthlessly?
Hoping to find some answers, I turned to a 600-page biography written a decade earlier by an American Joyce scholar called Carol Loeb Schloss. The biography was meticulously researched and yet entire swathes of Lucia's life were unaccounted for. Why? Because most of her letters (to her, from her, about her) had been purposefully destroyed. Her medical records had been burnt. She spent four months in analysis with the legendary Carl Jung in Switzerland. He too had destroyed all his notes. Poems and a novel she'd written had also been lost or destroyed. Lucia's life seemed to be little more than a few bald facts strung together and viewed through the lens of other people, many of whom seemed entirely unreliable. And yet newspaper reviews (which I quote in the novel) raved about her talent.
I began reading anything I could find on 1920s Paris and the Joyce family. I went to the National Archives and the James Joyce Centres in Zurich and Trieste, trawling through clippings, photographs and previously-censored material. The more I researched, the angrier I became. Joyce's daughter had been obliterated from history, her voice smothered. I realised that if I wanted to understand and experience her life, I would have to use the facts gleaned from my research – and imagine the rest. Only a novel was going to give me the emotional truth of Lucia. Only fiction could provide the emotional access to the past I was looking for. To experience her life, both in the intense, claustrophobic Joyce household and colourful, creative, jazz-age Paris needed imagination, not another biography or history book. And, as Doris Lessing famously said, "There's no doubt fiction makes a better job of the truth".
So the vodka business was put to one side as I began writing Lucia's story, fuelled by outrage. I'd never attended any writing courses, but ploughed on regardless. As my research gathered pace, I was horrified to uncover a pattern of young, newly liberated women being carted off to asylums: Lucia's sister-in-law; her first boyfriend's sister (who was the first French translator of Joyce's Dubliners); Zelda, the wife of F Scott Fitzgerald, (who studied ballet alongside Lucia). All appear in my novel – and all ended up with diagnoses of schizophrenia. Lucia and Zelda both died in asylums. They had both longed to be professional dancers. They had both, it seemed to me, lived in the shadows of more successful men.
These young women were also victims of the rapid change sweeping through the developed world. The 1920s was a time of huge change – cars, cameras, telephones and radios were altering the lives of everyone. In Paris, hems were up and stockings were down as young women embraced change and all it promised. But beneath the glamour and glitter lay a dark underbelly. As I wrote The Joyce Girl, I noticed similarities with our own period. Today, technology and social media have revolutionised our world and yet beneath the glossy Technicolor of Instagram and Facebook lurks a similarly dark underbelly, with soaring rates of mental health problems among the young. The more I researched, the more I saw parallels between the 1920s and the 2010s – as new generations (particularly, but not exclusively, female) struggled to adapt to new values, to new ways of behaving and seeing themselves. Hence I decided to give my first-year profits to a charity called YoungMinds.
Lucia's story was particularly interesting because she very much wanted to be a modern woman, and yet her parents retained a strongly Irish sense of propriety – in spite of Joyce's image as a radical writer changing the face of fiction. It was here, in the father-daughter element of the story, that Lucia's story resonated at a more personal level. Like Lucia, I grew up with a poet-father who exiled himself in order to pursue his art. The Joyces went to Italy and adopted Italian as their lingua franca. We went to Wales and learned Welsh. Like the Joyces, we lived in relative poverty, moving frequently during the first 10 years of my life.
My childhood was very much the "lite" version – but the similarities enabled me to understand how she might have felt. While many children grow up with the sense of a largely absent father, having a writer as a father results in something quite different – a father who is present in body but absent in spirit. Joyce worked and wrote obsessively. He was convinced of his own genius. He refused to compromise the integrity of his art for anything – or anyone. My father was similarly compulsive. Like Lucia and her brother, Giorgio, I and my siblings grew up in thrall to the creative will. Reading Ulysses for the third time reminded me of how particularly absent Joyce must have been from his children's childhood. But there the similarities ended.
The Joyce Girl is my attempt to resurrect Lucia and give her a voice, to experience 1920s Paris as she might have done, to understand why her life fizzled out in the way it did. I hope I've done her a scrap of the justice she deserves.
The Joyce Girl, is published by Impress, and is Annabel Abbs' first novel. It won the Impress Prize for New Writers, and was longlisted for the Caledonia Novel Award and the Bath Novel Award. She sponsors a full bursary for aspiring writers on the University of East Anglia Creative Writing MA and lives in London
The Irish Times – Jun 16, 2016
SaveSave
SaveSave
SaveSave
SaveSave
SaveSave
SaveSave
SaveSave